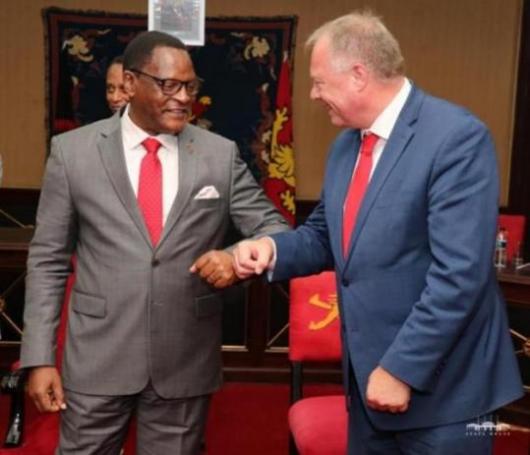 The President of Malawi with Henk Jan van Schothorst, director CCI
Signing of a 20-year binding trade treaty between the EU and member states of a group of 79 African, Caribbean and Pacific (ACP) countries has been delayed for more than 2 years. This is partly due to Christian Council International's active awareness in various countries and meeting rooms of serious overlooked problems in the treaty. The treaty text designed by the EU contains clauses requiring the introduction of abortion laws and sexualizing education. The EU is not about that at all; those are national competences. So says the annual report of Christian Council International published Saturday.
Its pioneering role in cleaning up this ideologically and neocolonially charged trade treaty has allowed the foundation to pay less attention to monitoring and input into the Human Rights Council in Geneva and the United Nations in New York.
Christian Council International, celebrating its 10th anniversary this year, saw its fundraising income drop from €240,000 to €200,000 from 2021. With offices in Africa, the U.S. and the Netherlands, the Bodegraven-based foundation brings a Christian sound to meeting rooms of international organizations and member states with additional focus on issues such as life, family and freedom of religion and education.
Click on the link below for an overview of CCI's work: