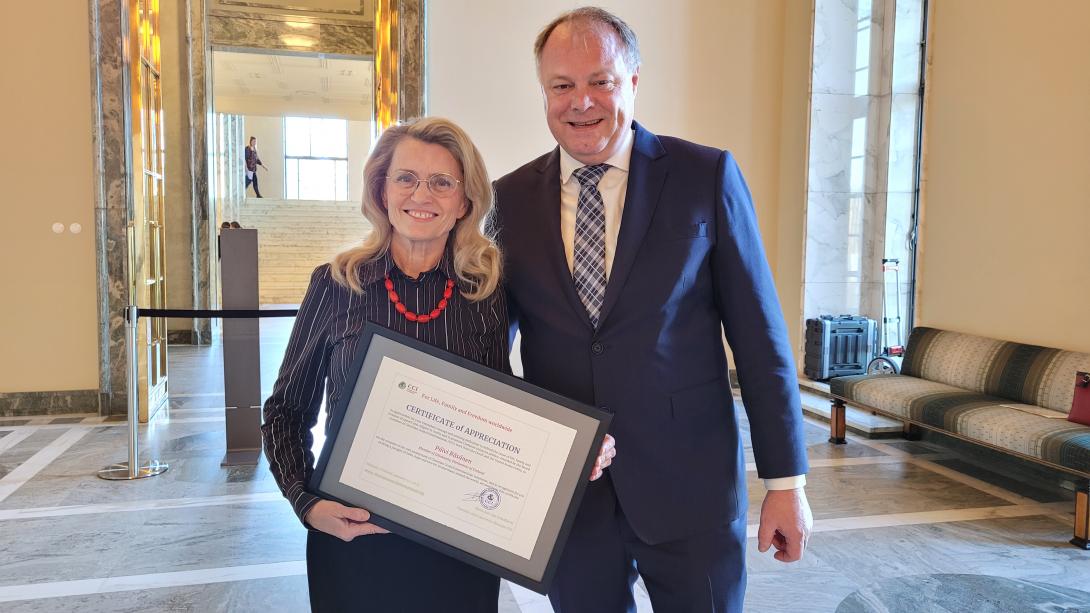 The certificate recognised her for her "exemplary courage and tireless dedication to defend the cause of life, family and freedom of expression and religion in courtrooms and to promote Christian values in politics. In doing so, she is a model of faith, hope, and love for us and many worldwide. 
Räsänen, who has been a member of the Finnish Parliament since 1995 with a hiatus during her ministry, has become internationally known for being criminally prosecuted for 'hate speech'. The charges concerned her tweet in 2019 of some Bible verses from Romans 1:24-27, with which she tried to dissuade her Lutheran church leadership from walking in the Helsinki Pride Parade Also, a booklet she wrote in 2004 with the theme "Man and woman He created them" and a discussion of these issues during a radio broadcast was qualified as 'hate speech'. The maximum penalty for this is 2 years in prison. The prosecutor demanded heavy fines and revocation of these cases. 
Van Schothorst has known Ms. Räsänen's case since 2019. He first met her in October 2021 over breakfast and coffee at a hotel in Budapest in 2021 around the Hungarian Parliamentary Prayer Breakfast. CCI has been supporting Ms. Räsänen ever since. Van Schothorst then attended her trial in early 2022, exactly one year ago. The joy was great when, in March, she was unanimously acquitted by all three judges on all charges. But the disappointment was equally great when we learned that a month later, the prosecutor appealed. That case will be heard in August. 
In essence, Ms. Räsänen's case is about biblical teachings on marriage and sexual morality. The prosecutor found Päivi's position unacceptable in modern Finland: 'Love the sinner, but hate the sin'. Räsänen's repeated position is that, according to the Christian view of man, everyone, regardless of sexual orientation, is of equal value. The accuser, on the other hand, said that if you call certain acts "sin," then you also violate the sinner's dignity. So you can not, according to her, distinguish between what someone does and their identity. So, if the Bible is naming certain actions in this area as sinful, the Bible is actually insulting, demeaning, hateful, and potentially persecutable.
With the filing of this second appeal, again a lot of taxpayer money will go wasted with this process, which can not be used for pressing matters such as dealing with real crimes, instead of declaring someone's beliefs a crime. Especially even if the state, as a prosecutor, is allowed to do unlimited search back into the past. A sad reality is that the Lutheran Church is increasingly denying its biblical roots in this area and openly stands on the wrong side of the battle.
Her case could go on for years, even to the Supreme Court. And then possibly to the European Court of Human Rights. More countries in Europe are seeing a trend of censoring beliefs. The EU is also preparing to declare "hate speech" a crime in the EU, just like terrorism, human trafficking and organized crime. 
Right now, the Bible is actually on trial in Finland. If it can be done there, it can be done in other countries. But, Van Schothorst reminded Räsänen during the presentation of the Certificate at the Parliament in Helsinki: The Bible says, "Do not fear. As many as 366 times. That is one time for every day in the year, even in the leap year is provided for. Let that be our daily marching order."